IDAutomation Code 128 Barcode Fonts 20.05
Create Code 128 barcodes from a font easily.
The IDAutomation Code 128 Barcode Fonts Package is much more than a few barcode fonts. 18 different font versions are provided for Windows, Macintosh, Linux, Unix, and other operating systems in TrueType, OpenType, PostScript and PCL font formats. Over 30 font tools, macros and source code are also provided for easy integration into many different applications and introducing the easy-to-use Microsoft Excel and Word Barcode VBA.
IDAutomation Code 128 Barcode Fonts

20.05

details
Author:

IDAutomation.com, Inc.

License:
Demo
Price:
$

159.00

Released:

May 1, 2020

File size:
14.16 MB
Downloads:
1280
Keywords:
Code128, Code 128 barcode fonts, code 128 barcode, Code 128, code-128, barcode fonts, 128 barcode, ucc-128, ean-128 barcode, Code 128, UCC/EAN, SSCC-18, SCC-14
Author URL:
https://www.idautomation.com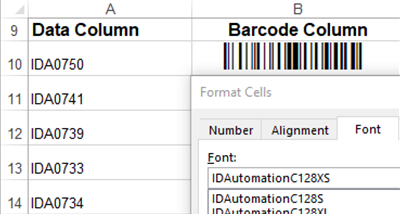 IDAutomation Code 128 Barcode Fonts for Windows 10 - Full description
Easily print Code 128 barcodes with this advanced font package. The download includes examples for Crystal Reports, Microsoft Excel, Word, and Access. Complies to ANSI and European (CEN) standards. Includes over 30 font tools, macros and source code for easy integration into applications which include a C++ .H file, Windows DLL, VB source, Office VBA, FileMaker Plugin, Crystal Reports UFL and an Oracle Reports Library with PLL source. Also introducing the Code 128 Font Encoder Software Application to the package, which allows users to easily paste barcodes into applications as a font. This demo version is fully functional. However, it contains a watermark in the upper portion of the barcode. For testing purposes, a successful scan may be obtained by scanning the lower area of the barcode that does not contain any watermark. With a purchase of the Developer License or above, a full set of Web Fonts are included in WOFF, EOT and SVG formats to easily display barcodes in any web browser. May 2020 Release includes the following updates: * Added the GS1-128 and GS1-HRI methods to the VBA module. * Updated the average width font metric setting in the L version of the font to correct a rare issue where the end of the barcode could get truncated. * Updated digital signatures in TTF and OTF fonts. * Modifications to support the latest versions of the .NET Framework. * Added a Word mail-merge example to the package. * Updated the Windows installer so that examples files install to {commondocs}{#MyAppName}Integration to allow modifications. * Minor modifications to documentation and HTML links. For more information about the IDAutomation Code 128 Barcode Fonts and to download a demo of the package, please visit: homepage
IDAutomation Code 128 Barcode Fonts for Windows 10 - Post your review