IDAutomation GS1 UPC/EAN Barcode Fonts 16.02
Print EAN and GS1 UPC barcodes as fonts.
The IDAutomation GS1 UPC & EAN Barcode Fonts Package is an advanced font product with font encoder, macros and source code that uses a single font file to create UPC-A, UPC-E, EAN-8, EAN-13, EAN-14, JAN, ISBN and Bookland barcodes. The download includes examples for Crystal Reports, OpenOffice Calc, Microsoft Excel, Word, and Access. Developer License and above includes Web Fonts in WOFF, EOT and SVG formats.
IDAutomation GS1 UPC/EAN Barcode Fonts

16.02

details
Author:

IDAutomation.com, Inc.

License:
Demo
Price:
$

159.00

Released:

Mar 10, 2017

File size:
4.82 MB
Downloads:
487
Keywords:
upc barcode, ean barcode, upc barcoding, upc barcode fonts, UPC-A, UPC-E, EAN-8, EAN-13, EAN-14, JAN, ISBN, Bookland, GS1 UPC
Author URL:
https://www.idautomation.com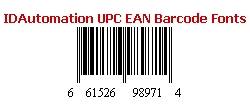 IDAutomation GS1 UPC/EAN Barcode Fonts for Windows 10 - Full description
The IDAutomation GS1 UPC-EAN Barcode Fonts Package is an advanced font set with encoders, macros and source code that uses a single font file to create GS1-UPC, UPC-A, UPC-E, EAN-8, EAN-13, EAN-14, JAN, ISBN and Bookland barcodes. This package uses Patent Pending font technology by IDAutomation to produce extremely high quality barcodes, even on low-resolution printers. Contains several font versions in many font formats (including TrueType, PostScript, OpenType, and PCL) for Windows, Mac, Linux and a variety of other operating systems. Updates included in the new 2016 release are: * Added the UPC/EAN Font Encoder Software Application to the package. * Updated Symbol fonts to better show font sizes in Microsoft Office dialogs. * Added separate install packages for symbol-encoded fonts. * Updated digital signatures in symbol TTF fonts. * Updated FileMaker examples to include custom functions instead of requiring a plugin. * Resolved an issue where the uninstall icon may not appear in the start menu on Windows 10. The download includes examples for Crystal Reports, OpenOffice Calc, Microsoft Excel, Word, and Access. Includes over 30 tools, macros and source code for easy integration into many applications which include a C++ .H file, Windows DLL, VB source, Office VBA, FileMaker Plugin, Crystal Reports UFL and an Oracle Reports Library with PLL source and introducing the easy-to-use Microsoft Excel and Word Barcode Add-in. With a purchase of the Developer License or above, a full set of Web Fonts are included in WOFF, EOT and SVG formats to easily display barcodes in any web browser. The demo version is fully functional. However, it contains a watermark in the 7 digit. For testing purposes, a successful scan may be obtained by scanning the lower area of the barcode that does not contain any watermark. For more information about the UPC/EAN Barcode Fonts and to download a demo of the package, please visit: homepage
IDAutomation GS1 UPC/EAN Barcode Fonts for Windows 10 - Post your review