MessagePop 1.2.5
Generate message windows with this tool
MessagePop is a simple application designed to help you convey a message to the computer user. The program allows you to specify the message text and the other parameters from the command line. You can create personalized message windows by entering text for the title, message and button in the command line.
MessagePop

1.2.5

details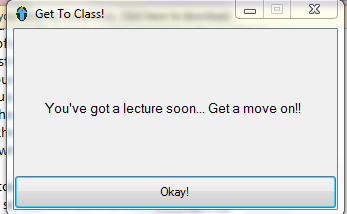 MessagePop for Windows 10 - Full description
Because I couldn't find a little piece of software to do what I wanted, I went and made one, and I thought there might be a few other people out there who might want to use it too. All it does is display a message which you set via command line arguments, in a windows which stays on top of any other windows. You can set the body text, title text and OK/close-button text.

There are instructions below to follow if you want to set up a scheduled task that uses MessagePop like I did, or you can use it however you'd like. I'd really love to hear any feedback or alternative uses for MessagePop that you come up with, so leave them in comments, hit me up on Facebook, Twitter, Tumblr, etc...

So the basics of how to use MessagePop are:

You run the program however you want, with the message as a command line parameter. You can also set the title text and the button text by simply putting a hash "#" with a space on either side, and then the next bit of text. So to specify all of them, it should look something like this: This is my message. # Titles are cool! # Press the button!
You can skip entering a message or title text if you want by hashing past it, e.g. if you don't want to specify a title, but you do want to specify the button text, write your message, and then adding "space hash space hash space" ( # # ) and then type what you want the button to say.
You can quickly close MessagePop by hitting either the Enter or Escape keys.
MessagePop for Windows 10 - Post your review