K-Lite Codec Pack 64-bit 17.5.0
Collection of codecs and related tools
The K-Lite Codec Pack Edition is a free collection of codecs and related tools. Codec is short for Compressor-decompressor. Codecs are needed for encoding and decoding (playing) audio and video. The very user-friendly installation is fully customizable, which means that you can install only those components that you want.
K-Lite Codec Pack 64-bit

17.5.0

details
| | |
| --- | --- |
| Author: | Codecguide |
| License: | Freeware |
| Price: | FREE |
| Released: | Mar 20, 2023 |
| File size: | 50.00 MB |
| Downloads: | 740 |
| Keywords: | x64 codec, x64 codec pack, x64codecs, x64 klite, klite codec x64, klite codec full x64, x64 lite, lite codec x64, lite codec pack x64, x64 ite, x64 codecs, lite mega pack x64 codec 4.1.8, pack lite x64, x64 quicktime, quicktime codec x64, Windows x64 bit |
| Author URL: | https://www.codecguide.com/ |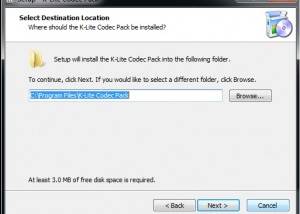 K-Lite Codec Pack 64-bit for Windows 10 - Full description
This is a bundle of 64-bit DirectShow filters that can be used together with 64-bit players, such as Windows Media Center.

There are four different variants of the K-Lite Codec Pack. Ranging from a very small bundle that contains only the most essential decoders to a large and more comprehensive bundle. The global differences between the variants can be found below. Detailed differences can be found on the comparison of abilities and comparison of contents pages.

These codec packs are compatible with Windows XP, Vista, Windows 7, 8, 8.1 and 10.
The packs include 32-bit and 64-bit codecs, so they work great on both x86 and x64 variants of Windows!
K-Lite Codec Pack 64-bit for Windows 10 - Post your review