AutoDalle 7.9.1.5
Design a terrace paving without slab cut
AutoDalle software calculates the random layout of rectangular slabs allowing you to create a terrace without any cut. No slab cut, random layout, 3D preview. Generate plugin to import terrace into Google SketchUp. Besides, AutoDalle also supports management of several excluded areas.
AutoDalle

7.9.1.5

details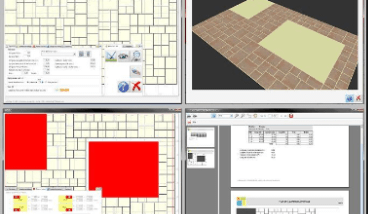 AutoDalle for Windows 10 - Full description
AutoDalle is a paving planner that creates random paving layouts for mixed size floor tiles or paving slabs. This kind of layout is called Roman Opus.

AutoDalle is the only software that can create random paving plans without cuttings !

The roman opus paving layout is obtained by disposing randomly different kinds of rectangular paving flags such that the joint thickness is always the same. The following picture is an example of a tiled patio designed with the software.

AutoDalle will obviously allows you to know exactly the quantity of flagstones needed to complete your paving.

AutoDalle is able to optimize the use of packs and calculate the quantities needed for each type of paving slab.

You are an individual or a company? You are looking for patio ideas? AutoDalle is the software you need to create all tile layouts for your terrace.
AutoDalle for Windows 10 - Post your review