Realtime Landscaping Pro 2014 9.02
New landscape design software
Use Realtime Landscaping Pro 2014 to create incredible 3D landscapes with patios, fencing, decks, swimming pools, water gardens, ponds, and more. Walk through your landscape designs in vibrant 3D, and upload videos of your designs to YouTube. No experience is required to use this powerful software and design the landscape of your dreams.
Realtime Landscaping Pro 2014

9.02

details
Author:

Idea Spectrum, Inc.

License:
Demo
Price:
$

99.95

Released:

Feb 19, 2014

File size:
367 kB
Downloads:
51
Keywords:
landscape, landscaping, design, garden, gardening, home, yard, backyard, deck, fence
Author URL:
http://www.IdeaSpectrum.com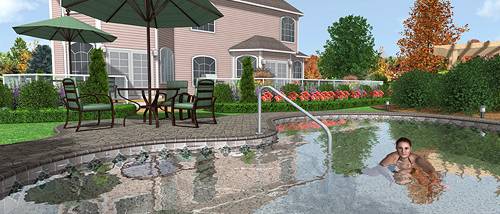 Realtime Landscaping Pro 2014 for Windows 10 - Full description
Realtime Landscaping Pro 2014 is powerful landscape design software developed for both homeowners and professional landscape designers. Choose from a library of more than 11,400 objects, including 5,500 high quality trees, shrubs, and flowers. Walk through your designs in vivid 3D with animated butterflies, realistic lighting, shadows, flowing water, swimming fish, and much more. Save your designs as gorgeous videos and upload them to YouTube, or print your designs using any Windows-compatible printer. No experience is required to use Realtime Landscaping Pro 2014, and new users are encouraged to try it out. Design in both 2D and 3D at the same time, eliminating the need for separate designs. Add exclusive UltraRes Plant models that change with the seasons and grow dynamically. Design with the power of the latest 3D graphics technology paired with decades of user-friendly software development experience. Realtime Landscaping Pro includes the full version of Realtime Landscaping Photo, which allows you to import a picture of your residence and design directly on top of it.
Realtime Landscaping Pro 2014 for Windows 10 - Post your review